Emergency Mold Remediation: What to Do in a Crisis
11/22/2023 (Permalink)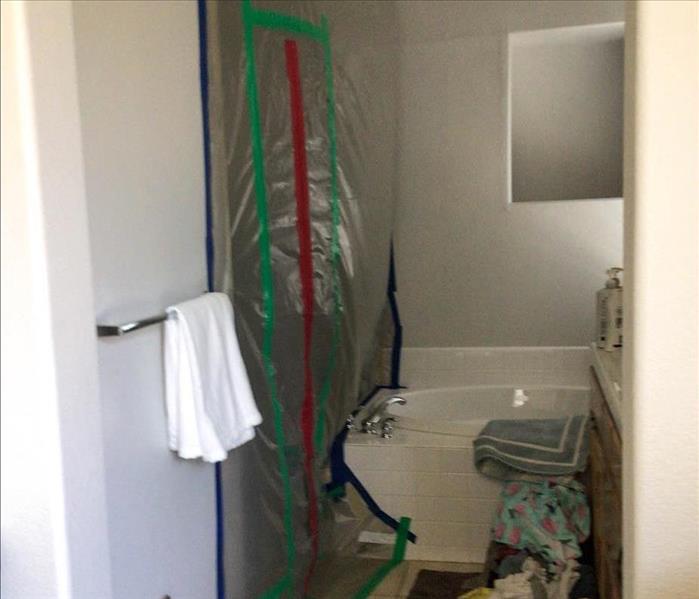 Mold emergencies can be daunting, but with the right steps and professional assistance, you can restore your home back to its former glory.
When mold strikes, it can be a crisis, especially in the beautiful Brentwood, CA area. Mold can cause extensive damage to your property and weaken its structural integrity. To help you navigate this emergency situation effectively, we're here with essential tips and detailed information on what to do during a mold crisis in your Brentwood home.
Identify the Problem
Mold often starts as a small issue that quickly escalates into a major crisis. Keep an eye out for visible signs of mold growth like black or green spots on walls, ceilings, or floors, and musty odors. If you see any of these signs, don't ignore them; take immediate action.
Try to identify the source of moisture that's feeding the mold. Common culprits include leaks, high humidity, or flooding. Fixing this issue is essential to prevent further mold growth. If you're uncertain about the source of moisture, a professional inspection can help pinpoint the problem.
Safety First
Mold can be harmful, so make sure to take safety precautions. Wear gloves, a mask, and eye protection when dealing with mold, especially if it covers a large area. Consider using an N95 respirator or better to filter out mold spores and other contaminants.
Ensure good ventilation in the affected area by opening windows and using fans to help reduce the concentration of mold spores in the air. If you're dealing with extensive mold growth, a professional remediation service can set up proper ventilation and air filtration systems.
Act Quickly
Mold remediation is usually not a DIY job, especially in an emergency. Contact a professional mold remediation service like SERVPRO® of East Concord/Brentwood. We have the experience, knowledge, and equipment to handle the situation safely and effectively. Our rapid response team is available 24/7 to assist you.
Our team will assess the extent of the mold damage and formulate a remediation plan tailored to your specific situation. This assessment includes identifying the type of mold, its growth stage, and the areas it has affected, allowing us to develop a targeted plan of action.
Remediation Process
To prevent the spread of mold spores to other areas of your home, our experts will set up containment barriers and negative air pressure systems. This isolation prevents cross-contamination during the removal process, keeping your home safe.
The next step involves the careful removal of contaminated materials, ensuring that all affected areas are properly cleaned and sanitized. We use advanced equipment and cleaning agents to effectively eliminate the mold and its spores.
Mold thrives in damp conditions, so our team will thoroughly dry and dehumidify the area to prevent future mold growth. We use industrial-grade dehumidifiers and air movers to achieve optimal results.
Prevention is Key
As part of our service, we'll address the underlying cause of the mold issue, whether it's a leaky pipe, roof damage, or poor ventilation. We ensure that the source of moisture is fully remediated to prevent mold from coming back.
Mold emergencies can be daunting, but with the right steps and professional assistance, you can restore your Brentwood, CA home to its former glory. Remember that swift action, safety, and expert intervention are essential in managing mold crises effectively. At SERVPRO® of East Concord/Brentwood, we're here to help you through the process, so don't hesitate to reach out if you're facing a mold emergency. We're just a phone call away to ensure your home is mold-free and safe.